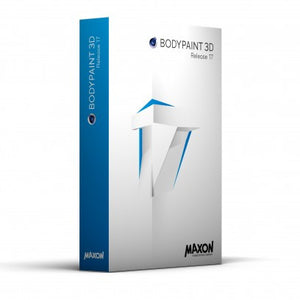 Maxon BodyPaint 3D R17: BP-N-17
$ 94525

$ 945.25

Save $ 49.75
---
---
BODYPAINT 3D - IMPRESSIVE TEXTURING AND SCULPTING
MAXON's BodyPaint 3D is the ultimate tool for creating high-end textures and unique sculptures.
Wave goodbye to UV seams, inaccurate texturing and constant back-and-forth switching to your 2D image editor. Say hello to hassle-free texturing that lets you quickly paint highly detailed textures directly on your 3D objects.
BodyPaint 3D also offers a comprehensive set of sculpting tools that let you turn a simple object into a detailed work of art.
When it comes to texturing tools, BodyPaint 3D is packed with a huge array of popular image editing tools. Brushes, selection tools, filters, erasers and much more. BodyPaint 3D can even utilize Photoshop .abr brushes. Full support for tablets ensures that painting with a pen feels just as natural as it does in popular 2D image editors. And of course BodyPaint 3D can deal with image files as large as 16k and with 16-bit and 32-bit color depth.

Compared to 2D painting, perhaps the most exciting feature BodyPaint 3D offers is projection painting. This powerful mode eliminates the need to spend hours creating perfect UV maps. You simply paint what you would like to see on your 3D model, apply the projection and then BodyPaint 3D will quickly adjust your painting so it fits your UVs perfectly - even if there are differing UV sizes and seems.

BodyPaint 3D was created for all 3D artists and includes free plugins to connect with 3ds Max, Maya and Softimage. All other applications can exchange files with BodyPaint 3D using one of the numerous available file formats (e.g. OBJ, FBX or COLLADA).
MINIMUM SYSTEM REQUIREMENTS

Windows 7 or 8 (64-bit only) on Intel or AMD 64-bit processors with SSE3 support; Mac OS X 10.8.5 or higher on 64-bit Intel-based Macs; 4 GB available RAM, OpenGL Graphics card supporting OpenGL 3.2, DVD ROM drive. A standard DVD installation can require up to 7 GB of hard drive space. The software must be registered for unrestricted use.