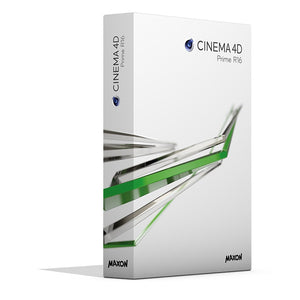 Maxon Cinema 4D Prime, Release 16 (Box)
$ 94525

$ 945.25

Save $ 49.75
---
---
Renowned for its ease of use, speed and professional results, CINEMA 4D Prime is an ideal choice for all graphic designers looking to add 3D to their toolset.
CINEMA 4D Prime's intuitive interface is designed to ease you in to the powerful and exciting world of 3D graphics.
With CINEMA 4D Prime you can start creating great-looking 3D images in no time. And the tutorials provided help you learn CINEMA 4D quickly and easily.
Minimum System Requirements
Windows XP, Vista or 7 running on Intel or AMD CPU with SSE2-Support; Mac OS X 10.6.8 or higher running on a 64-bit Intel-based Mac; 1024 MB free RAM, DVD ROM drive. Standard DVD installation can take up to 7 GB of disk space. Software must be registered for permanent use.