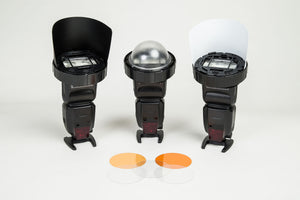 SpinLight 360™ EVENT
$ 6995

$ 69.95

Save $ 29.05
---
---
SpinLight 360™ EVENT
The SpinLight 360™ EVENT is a basic, streamlined package for photographers with our unique Gel System.
Easily and instantly control the light's quality and direction.  With the ability to rotate the bounce cards a full 360 degrees, bounce, block and eliminate direct flash light on the subject, controlling light and shadows.  And with our unique Gel System you can securely attach gels while still having the flexibility to use and change modifiers and bounce cards at the same time.
Fits Most Flashes
Looks Professional
Integrated Gel System
Easily Rotates 360 Degrees
Made In The USA
The SpinLight 360™ EVENT Modular System is compatible with the Nikon SB-600, Nikon SB-700, Nikon SB-800, Nikon SB-900, Nikon SB-910, Canon 480EX II, Canon 580EX, Canon 580EX II, Canon 600EX-RT, Sony HVL-F58AM, Sony HVL-F60M, Sony HVL-F43AM, Metz Mecablitz 50 AF-1, Metz Mecablitz 58 AF-2, and Metz 44 AF-1 Mecablitz flash, and all flashes of similar sizes.

The SpinLight 360™ EVENT Includes:
The SpinLight 360™ Ring Assembly with Gel System Capability
Clear Full Dome
Velcro Attachment
4″ Black Bounce Card
4″ White Bounce Card
3 Clear Gel Disks
1 FULL CTO Gel
1 HALF CTO Gel
Compatible with all SpinLight 360™ Modifiers and Bounce Cards.
Flashes Not Included.