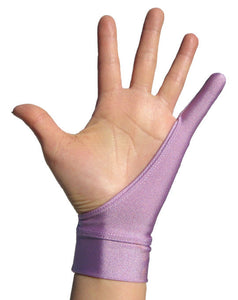 SmudgeGuard Sweet Lavender
Are you a right-handed artist? Are you a Wacom or Tablet PC user? Are you left-handed?
Do you always get pesky ink or graphite smudges when you write, draw or sketch?
Wacom users: Does your hand stick to the surface when writing or drawing on the Wacom tablet? Do you want your hand to glide more smoothly?
Is your Tablet PC getting filthy smudges from sweaty hands?
SmudgeGuard is for You!
Benefits:
Keeps the side of your hand clean from unwanted smudges!
No more sweaty hand smudges on your Tablet PC!
Eliminates hand friction!
Your hand will glide easily across paper and tablets!
Your hand won't "stick" to the Wacom surface anymore!
Minimizes smudges off your creative work!
Great for home, school or office!
Children & Adults can use it for:
Writing
Drawing
Sketching
No more smudges from pens and pencils!
Design Features:
Snug
Flexible
Durable
Washable
Breathable
Lightweight
Comfortable
Portable
Easy to use
For Male or Female
For Left or Right handed use
Made of 87% Nylon and 13% Spandex
SmudgeGuard™ is well-made with the highest quality! SmudgeGuard™ is the perfect artists glove!