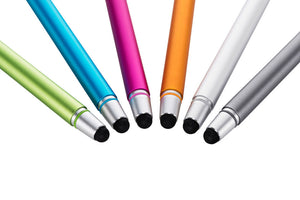 Wacom Bamboo Duo, blue CS170B
The most versatile tool for digital professionals
The Bamboo Duo is a creativity switch-hitter, featuring an updated carbon-fiber woven tip with an inner silicon core for smudge-free digital navigation, plus a high-quality ball point for those times you need to capture ideas on paper. Switch from touchscreen to paper quickly and easily—simply flip the stylus around to use the ballpoint pen.

All Wacom Bamboos are made of durable, high quality materials, crafted with care, and designed for extensive daily use. The long lasting tip can be easily extracted and exchanged with our affordable replacements, after prolonged use.

The Bamboo Duo has a modern, clean-lined design with high quality brushed aluminum. Please refer to the specifications tab for more details.
What's Inside
Bamboo Duo
Quick start guide