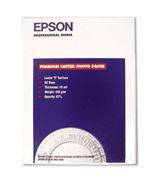 Epson Ultra Premium Photo Paper Luster 8.5x11 250 sheets
$ 12695

$ 126.95

Save $ 39.04
---
---
Epson Ultra Premium Photo Paper Luster 8.5x11 250 sheets
Epson Ultra Premium Photo Paper Luster 8.5x11 250 sheets
Wedding, portrait and school photographers have traditionally used luster paper for their photos. Now Epson offers this popular surface paper, Premium Luster Photo Paper, to digital printmakers. This instant drying paper produces vivid, lifelike images that rival those of traditional silver halide prints. Premium Luster Photo Paper delivers highly saturated prints by offering maximum ink coverage and a high D-Max for true photographic reproductions. Its 10-mil RC base gives prints a photographic feel, and keeps the paper cockle-free. Ideal for use with all Epson Inks. Like all of Epson's innovative media, this paper is engineered to give you the highest resolution and color saturation possible. As always, EPSON supplies guarantees EPSON quality. 
Features:
Gas fastness- Excellent with EPSON Archival Ink and UltraChrome Ink, poor with dye-based ink. With regard to dye-based images, lamination greatly increases gas-fastness.
Dark Storage -Good -Prints stored in photo albums in protective sleeves will remain stable.
Resistance to water -Good -Bleeding does not occur with incidental water contact. However, this paper is not recommended for use in wet conditions.
Ink drying time Immediate (less than 30 seconds) Ink is dry to the touch after printing. However, it takes 24 hours before it cures and becomes durable.
Lamination feasibility Hot lamination or cold lamination Top surface texture may cause uneven adhesion with the film.
Basis Weight:
Roll: 240 gsm - Sheet: 240 gsm
Thickness:
Roll: 10 mil - Sheet: 10 mil
ISO brightness:
Roll: 97% - Sheet: 97%
Opacity:
Roll: 97% - Sheet: 97%
Gloss at 60¦:
Roll: 16 - Sheet: 16
Base Material:
Roll: Polyethylene Encapsulated Paper - Sheet: Polyethylene Encapsulated Paper
Surface Finish:
Roll: Luster - Sheet: Luster
Core size:
Roll: 3 inches - Sheet: N/A
Spindle:
Roll: 3 inches high tension - Sheet: N/A