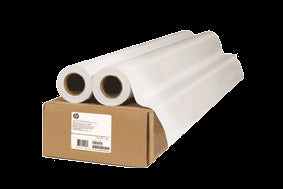 HP C0F22A 2-Pack Everyday Adhesive Matte Polypropylene 7.1 ml (60" x 75' Roll)
HP C0F22A 2-Pack Everyday Adhesive Matte Polypropylene 7.1 ml (60" x 75' Roll)
MFR# C0F22A 
Special Order item: Expected availability: 5-7 business days
Permanent Self Adhesive
Basis Weight: 168 gsm with Liner
Thickness: 8.5 mil with Liner
Opacity: 96% with Liner
Brightness: 101% with Liner
Whiteness: 150% with Liner (ISO 11475)
Matte Surface Finish
Dries in Less than 2 Minutes
Display Permanence of 50 Years Indoors
Moderate Water Resistance
This 2-pack of 60" x 75' rolls of Everyday Adhesive Matte Polypropylene from HP is a quality display material that offers a matte finish with a wide color gamut. It can also attach to surfaces due to a permanent self adhesive on the material. With the liner it features a basis weight of 168 gsm and a thickness of 8.5 mil. Also, it has a brightness of 101%, an opacity of 96%, and a whiteness of 150% under ISO 11475 testing.

This material has a matte finish and will dry in under 2 minutes. Additionally, it features a moderate water resistance and has a display permanence of 50 years indoors.
HP C0F22A Specs
Weight
Without Liner: 120 gsm
With Liner: 168 gsm
Thickness
Without Liner: 7.1 mil (180 microns)
With Liner: 8.5 mil (215 microns)
Opacity
With Liner: 96%
Brightness
With Liner: 101%
Whiteness
Without Liner: 120% (ISO 11476)
With Liner: 150% (ISO 11475)
Finish
Matte
Environmental Conditions
Temperature: 59 to 95°F (15 to 35°C)
Operating Humidity: 20-80%, relative
Storage Humidity: 15-30%, relative
Display Permanence
Indoor Home or Office: 50 years unlaminated
Lamination
Yes
Shelf Life
2 years, unopened
Water Resistance
Moderate
Drying Time
Less than 2 minutes at 73°F (23°C) and 50% relative humidity
Size
60" x 75' (152.4 cm x 22.9 m)
Packaging Info
Package Weight
34.4 lb
Box Dimensions (LxWxH)
63.1 x 11.75 x 5.6"