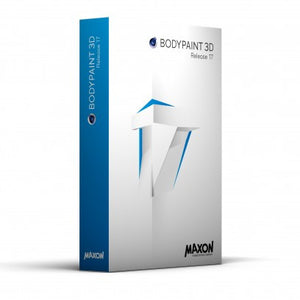 Maxon BodyPaint 3D R17 - Competitive Discount for Gov't/Non-Profit/3D Users: BP-N-CU17
$ 85025

$ 850.25

Save $ 144.75
---
---
PRODUCT HIGHLIGHTS
Create Advanced Textures and Sculptures
Discounted for Gov't/Non-Profit/3D Users
Paint Textures Directly on 3D Objects
Brushes, Sculpting Tools, UV Tools, Etc.
Distortion-Free Painting
Paint Over Multiple Objects
Full Support for Tablets
New Spline Tools, Sculpting Enhancements
New Take System & New Color Chooser
New Global Material Override

Note:

This Competitive Discount is valid for government and non-profit organizations, owners of any CINEMA 4D software in any version and release, and owners of any other 3D applications.
MINIMUM SYSTEM REQUIREMENTS

Windows 7 or 8 (64-bit only) on Intel or AMD 64-bit processors with SSE3 support; Mac OS X 10.8.5 or higher on 64-bit Intel-based Macs; 4 GB available RAM, OpenGL Graphics card supporting OpenGL 3.2, DVD ROM drive. A standard DVD installation can require up to 7 GB of hard drive space. The software must be registered for unrestricted use.