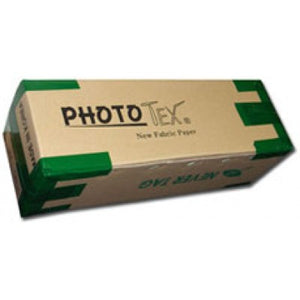 Photo Tex PSA Fabric - Aqueous 42in x 100ft 42in x 100ft - 1 Roll (3 inch Core) - PT42100
FREE Ground Shipping
Photo Tex PSA Fabric - Aqueous 42in x 100ft 42in x 100ft - 1 Roll (3 inch Core) Compatible with Aqueous, Latex Printers = MFR# PT42100, PT-42100
Please contact us for volume pricing quote for 7 or more rolls.
Photo Tex adhesive-back fabric sticks to any non-porous flat surface and is easy to install, creating brilliant, seamless images with dynamic, vivid colors. Photo Tex works indoors or out, so the sharp graphics will not shrink, wrinkle or rip in any temperature or climate change. It is ideal for walls and wall murals in restaurants, retail settings, offices, vehicles, and more. Photo Tex will easily wrap around corners, poles, and even ceilings, and it is removable, reusable, and repositionable and won't leave any residue behind. Other application ideas for this versatile fabric include windows, doors, sign boards, elevators, and more. Photo Tex is compatible with aqueous inkjet and HP Latex printers.
Please Note: this is a special order item, please allow 2 business days to process and ship.
Photo Tex Photo Tex PSA Fabric - Aqueous 42in x 100ft
Item#: PT42100
Part#: PT42100
Media Type: Fabric
Media Type: Adhesive Backed
Ink Type: Latex
Ink Type: Aqueous
Finish: Matte
Width: 42in
Length: 100ft
Core Size: 3in
Media Opacity: Translucent
Units: 1 Roll
Multiple applications for a versatile, profitable adhesive-back fabric solution
Removable, reusable, and repositionable
42"x100' Roll (3" Core)
| | |
| --- | --- |
| Material | 40-45% polyester, 40-45% pulp-cellulose |
| Gauge | 6 mil |
| Adhesive | Low tack removable and repositionable adhesive |
| Release Liner | 4 mil |
| Total Gauge | 10 mil |
| Printer/Ink Compatibility | Compatible with all thermal and piezo inkjet printers using pigment-based inks. |
| Software Settings | Optimized printer settings will vary from printer manufacturers. A fine art paper or matte paper setting is an appropriate starting point. However, we recommend that you try different settings to achieve optimum performance for your specific application. However, we recommend a custom ICC profile for optimal results. |
| Finishing/Post Processing | Use a carbide knife for kiss and die cutting. For additional protection, liquid or spray coatings are recommended. Recommended outdoors for up to six months without additional protection. |
| Light Fastness | The fading time of inkjet ink is a direct result of the inks that you choose to use and the environment where the print is displayed. Contact the ink manufacturer for light-fastness data. |
| Surface Preparation | The non-porous flat surface should be cleaned and free of dust and debris. |
| Optimal Print Environment | 59-77° F, 20-80% R.H |
| Service Temp. Range | For end use: 0- 176° F |
| Handling Recommendations | Due to the absorptive nature of the coating, you should avoid touching the coated surface of the film. To install the graphic, peel 4 inches of the liner off the graphic and place on wall. Continue to peel back 4 inches of the liner incrementally while mounting. |
| Ideal Storage Conditions | 50-80° F, 20-80% R.H. (a controlled environment is recommended); store vertically in original packaging. |
| Shelf Life | 1 year from the ship date when stored in proper conditions. |
| ACT Compliance | Photo Tex has been tested and is ACT compliant for Lead and Phthalate. It meets requirements for CPSC 16 CFR 1303, H.R. 4040 CPSIA 2008 Section 101 and H.R. 4040 CPSIA 2008 Section 108. |
| Environmental and Toxicity Notes | PhotoTex has no detrimental concerns of Phthalates, no PVC, no Glycol-ether and no Formaldehyde |