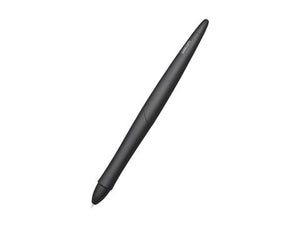 Wacom Inking Pen KP1302
Out of Stock - Discontinued
Model/Name:Inking Pen
UPC:753218993434
MSRP:USD$ 79.95
Vendor Part #:KP1302
The pressure- and tilt-sensitive Wacom Inking Pen was created to provide the immediate feedback of actual ink on paper and is the ideal input device for tracing and illustrating original artwork.

Simply place a sheet of paper (or a drawing pad up to 0.4in (10mm) in thickness) on top of your tablet and your Wacom Inking Pen can both "draw" on the paper and digitally record the drawing on the tablet.

The Wacom Inking Pen is compatible with all Intuos5 and Intuos4 pen tablets. Note: Do not use the Inking Pen on Cintiq 21UX and Cintiq 24HD as the inking cartridge can severely damage the Cintiq screen.

Facts & Features

Writing sensation like using a regular ball point pen

Cordless, battery-free

2nd Generation Wacom Tip Sensor

Pressure Levels: 2048

Tilt Sensitivity: ± 60°

Dimensions (L x D): 5.97" x 0.5" (152 x 12.5 mm)

Weight: 0.42 oz (12 g)

Eraser: no
What's Inside

Wacom Inking Pen
2 POM nibs
3 ink nibs (black)
Pen stand
System Requirements

THe Inking Pen works with Intuos5 and Intuos4 tablets only. This pen will not work with Intuos3, Intuos2, and Intuos pen tablets.