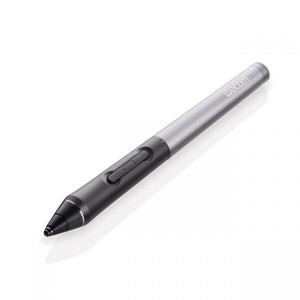 Wacom Intuos Creative Stylus 2 CS600PK
Turn your iPad into a canvas
Create a masterpiece, wherever you are. The Intuos Creative Stylus is designed to connect seamlessly with your favorite creative apps through Bluetooth® Smart technology, so you can use it anywhere you take your iPad.

Designed for creativity
Intuos Creative Stylus 2 has an improved precise thin and firm pen tip that gives you better control of your strokes, increased visibility, and intricate detail. Thanks to its 2048 pressure levels, Intuos Creative Stylus senses the lightest touch of the pen on your iPad, and feels like a pen or brush on real paper or canvas.
Easily transfer your on-the-go creations to your Mac or PC through Wacom's cloud service "DropZone" (coming soon) and refine them with your creative software and a Wacom Intuos Pro pen tablet.

Intuos Creative Stylus 2 is designed for use with the iPad Mini 1 & 2, iPad 3 & 4, and iPad Air 1. Stylus comes in black and gray, and includes a convenient carrying case, and rechargeable battery, USB cable, and replacement nib. Please refer to the specifications tab for more details.
What's Inside
Intuos Creative Stylus
Quick start guide
Bamboo Paper flyer
1 replacement nib
USB Charger
Carrying Case