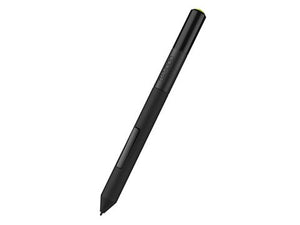 Wacom Pen for Bamboo Connect or Bamboo Splash LP170G
For use with a Bamboo Connect or Bamboo Splash pen tablet, this cordless, battery-free, and pressure sensitive pen includes a pen tip with replaceable nibs. This pen has 1024 levels of pressure and a programmable side-switch that puts shortcuts at your fingertips. There is no eraser on this model. Pen color is black.
What's Inside
Bamboo Connect/Bamboo Splash Pen
Works with Bamboo Connect (CTL-470) or Bamboo Splash (CTL-471) pen tablets.