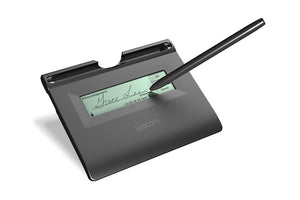 Wacom STU-300B 3.9" x 1.0" Monochrome LCD Signature Pad LCD Signature Pad, STU300B
Wacom STU-300B 3.9" x 1.0" Monochrome LCD Signature Pad 
LCD Signature Pad, STU300B
Also see the STU-430, 
The STU-300B LCD Signature Pad offers a quality 4" monochrome display. With its small, compact design and durable, robust quality, this capture device is well-suited for professionals working with digital documents that require customer signatures.
STU-300B features and benefits
4" monochrome, transreflective LCD provides easy viewing in all lighting conditions
Small, compact design for easy transport and efficient use of counter space
Wacom's patented cordless, battery-free pen with 512 levels of pressure sensitivity
Hardened glass protects the LCD and is highly scratch resistant
Captures legally-binding electronic handwritten signatures
With its compact and robust design, the Wacom STU-300 LCD signature pad is ideal use in the field or on counters where space is limited. Insurance agents and field service professionals appreciate its small size and on-board pen holder. Their customers can quickly and safely sign contracts, authorize payments and confirm deliveries – all without paper documents. It is also a great choice for customer-facing counter and desktop applications where only the signature is needed to be captured.