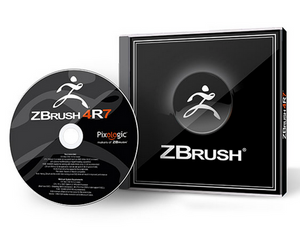 Pixologic ZBrush 4R7 - WIN (Single User License)
Pixologic ZBrush 4R7 has been released! Pixologic is pleased to offer Hair, Fur and Fiber capabilities amongst other features. The new \FiberMesh will enable quick and intuitive creation of hair and other fibrous materials. The FiberMesh function will generate fully sculptable Polymesh 3d objects. This means your fur and fibers will behave as sculptable geometry when using any of ZBrush's 3D sculpting brushes. Users will benefit from having control over density ranges where meshes are concerned. Polygon numbers will span a wide range from minute to millions, all the while retaining exportability. These features will be joined by our developments to the BPR (Best Preview Render) system. The added functionality in the BPR system, will see users benefit from the ability to have even more control in the creation of highly detailed final rendered images.

Download the 30-day trial here - http://www.pixologic.com/zbrush/trial/

The Getting Started with ZBrush guide is a live interactive document to use from your computer, containing links to various videos, tutorials, and locations of the numerous Pixologic web pages.
Click here to download ZBrush Guide.

ZBrush 4R7 Feature List

FiberMesh to create real 3d fiber, fur and hair geometry with export capabilities.
New set of dedicated FiberMesh "Groom" brushes and corresponding Brush settings.
MicroMesh support to render fibers or single polygons as separate 3D objects.
New set of BPR filters and operators to greatly improve your final ZBrush renders
BPR Global Shadow and Ambient Occlusion settings simplifying shadow management.
New Cavity Mixer used to define different material shaders based on the mesh cavities.
Improved small details creation through Alpha and Mask. Alphas may be placed using TransPose.
Surface Smoothness feature detects mesh curvature for Mask creation.
New global deformation with Transpose Curve deformation and UnClip.
Improved Mask operations with Shrink and Extend.
Topology editing additions: Group Mask and Edgeloop Mask Border.
New JPEG Exporter with Crop, Preview and adjustment settings.
Numerous improvements such as storing shadow information based on the camera point of view, preview of mesh Extraction, Auto Adjust Mode for perspective… and a lot more.
REQUIREMENTS
Windows
RECOMMENDED:
OS: Windows XP SP2/Windows Vista/Windows 7
CPU: Pentium D or newer (or equivalent such as AMD Athlon 64 X2 or newer) with optional multithreading or hyperthreading capabilities
RAM: 2048MB (4096MB for working with multi-million-poly meshes)
Monitor: 1280x1024 monitor resolution or higher (32 bits)
MINIMUM SYSTEM REQUIREMENTS:
OS: Windows 2000/XP SP2
CPU: P4 or AMD Opteron or Athlon64 Processor (Must have SSE2 : Streaming SIMD Extensions 2)
RAM: 1024MB (2048 MB recommended)
Monitor: 1024x768 monitor resolution (32 bits)
Mac
REQUIRED:
OS: Mac OSX 10.5 or newer
CPU: Intel Macintosh (Must have SSE2 : Streaming SIMD Extensions 2)
RAM: 1024MB (2048MB recommended for working with multi-million-polys)
Monitor: 1024x768 monitor resolution set to Millions of Colors (recommended: 1280 x 1024 or higher)